Cost Positive Yardage Books FOR YOUR COURSE!
NO LONGER JUST A MEMENTO, WE'VE CREATED A GRAPHICALLY RICH YARDAGE BOOK THAT INCLUDES PGA TOUR BOOK DATA.
It seems yardage books either have amazing graphics or golf course data that aide only a PGA Tour pro to shoot low, so why not both? Pro Secrets have spent years developing unique yardage books that enhance the brand of your golf club, whilst providing golf course information to encourages any golfer to shoot better scores. We even go one step further by showing each club how to make these amazing yardage books cost positive, providing a steady stream of income to help your club's bottom line.
Many golfers believe they don't need a yardage book because they have a GPS device, a range-finder, or use the measurements located on course. While this is a help to most golfers, when you find yourself playing in a club championship, pennant final, or even a money game with your golfing buddies, you need every bit of assistance you can get. We offer a book filled with visual and real information that will help your members shoot lower and also help you create a further revenue stream.
Tournament after tournament, year after year, there is only one piece of golf equipment professional golfers actually buy...a yardage book.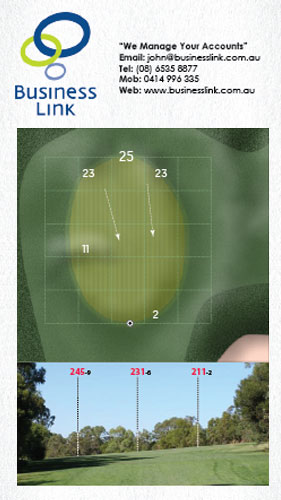 Features you will find in our stand alone commercial yardage book that you won't necessarily find in GPS devices or range-finder:
Graphically enriched images that golfers will want to keep as a memento of their day on your course.
Measurement accuracy to within 1 meter.
Distance to, and over hazards.
Compass to determine wind direction.
Elevation Changes +/-
Grids on detailed greens, giving exact distances to various slopes and tiers.
Blind tee shots - By using a photo of what you see on the tee box. We give you target lines, indicating carry and run outs.
Option to advertise businesses associated with your club.
Option to advertise golf club services on every page.
Option to include a pro tip on how to play each hole.
Option for customised yardage book covers for corporate golf days and signature events.
Corporate Golf Days
Corporate golf days are becoming increasingly popular, providing another revenue stream for golf clubs. With the opportunity to network business whilst playing golf, value can be added to corporate golf days that can be emphasised through our yardage books. With it's empowering course data and given as a memento of the day to every participant, our yardage books can include advertising opportunities for corporate business or services that your golf club offers. We also give you the opportunity to control the source data by printing in-house, customising every yardage book for individual corporate golf days or signature event.