15 CLUB CADDY – A Matter Of Survival
Posted On 29th June2012 | By Simon Clarke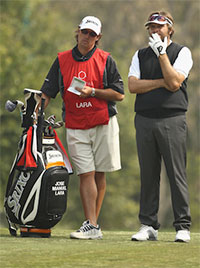 The talk this week around world golf tours will undoubtedly be the 15 club caddy incident at the BMW International Open in Germany last week. Here on the Japanese Tour the chatter began on the bullet train between pros and caddies as the news filtered through on the internet at the conclusion of the Mizuno Open tournament, won in convincing fashion by Australia's Brad Kennedy.
When a story like this hits the airwaves on a golf tour, many questions immediately leap to mind for players and caddies alike, but the questions asked internally of each differ markedly according to whether you are a player or a caddie.
The condemned caddie in question, Mathias Vinson, is no rookie to the ranks and has enjoyed the full respect of his peers for many years on the European Tour. In a self proclaimed "moment of madness", Vinson endeavoured to trot off into the bushes on the 2nd hole of the day and rid his man's bag of the unwanted 15th club in thick undergrowth. This was not the only error of judgment Vinson made that day but definitely the act that led to his downfall and the infliction of the ultimate penalty for a caddie, the disqualification of his player, Spain's Jose Manuel Lara.
For those not schooled in the tedious rules of golf, a player is not permitted to commence his round of golf with any more than 14 clubs in his bag. A player can however, have less than 14 clubs should he so choose. For every club carried in the bag over the permitted number of 14, a player shall receive a 2 shot penalty per hole that he plays during that round, up to a maximum of 4 shots.
This rule rarely comes into play in tournament golf but believe me, everyone out there on tour is well aware of its existence. A diligent caddy will count the clubs every single day, even when they know with 100% certainty that they will always arrive at 14. It is tantamount to counting your fingers and toes upon waking each morning just in case by some extraordinary chance you have been awarded an extra digit overnight to play with.
When a group of players and caddies are milling around a tee waiting to tee off in tournament golf, many things may take place. Idle chit chat, eating bananas, smoking a ciggi, swigging a drink, dropping  grass for a wind check or nicking off into the woods to relieve oneself (should the foliage provide ample cover from a curious gallery) These are all run of the mill occurrences that are undertaken by caddie and player alike on a daily basis. What never happens on a waiting tee is a caddie heading off into the bushes with the golf bag on his shoulder. This act, so obviously falling outside the set of routine activities, would arouse immediate suspicion among nearby players and caddies alike. And so it did.
What this act displays to most casual observers is the act of a cheat, plain and simple.  But to a professional caddy like myself, it is not so clear cut. Every caddy asks themselves internally at any given stage of introspection "what would I do if this happened?" and these burning questions for a caddie are not just relevant to the 15th club poltergeist. Other scenarios that cost sleep for caddies include stepping on the ball, being hit by the ball, forgetting to remind your boss to move his marker back, the ball hitting the bag, standing directly behind your man as he holes a putt or watching your sunglasses fall from your hat onto your player's ball on the green as you are reading a putt. Breaching most of these rules would likely have no real impact on the outcome of the tournament, but every caddy knows that such breaches will result in his boss being struck down with great vengeance, furious anger and 2 stroke penalty at best.
The penalty for a caddy however is not just the blot on his player's scorecard, there are far greater forces at play here. Not least among a caddie's greatest fears in his tenuous existence is being slapped with a negative nickname that pertains to an act of indiscretion, and there are plenty of caddies out there on tour today and from times gone by that bear such heavy crosses.
Consider the Australian caddy known to all and sundry as "Two Shots" whose real name has still never been bought to my attention and whose story is most worthy of being retold. Then there is Ju Go Jimmy (Ju go being the Japanese word for 15), the highly regarded Japanese caddy that, unlike Vinson, did the right thing in the face of the ultimate adversity by sticking his hand high in the air upon discovering the sinister 15th club, therefore costing his boss shot's, but at the same time salvaging his own career through his honesty, albeit with an unmissable scar to wear for the rest of his journey on tour.
It was the potential for such a scar and the fear of rendering himself infamous and potentially unemployable on tour that perhaps motivated Vinson to commit this dastardly act. I in no way condone Vinson's actions, he made a bad choice, plain and simple. He attempted to break the rules of golf and save himself from all manner of swinging axes. What Vinson should have done is chosen the only axe that would have seen him come out the other end somewhat intact. Vinson should have manned up and owned up, thus upholding the integrity that this wonderful game demands and at the same time giving himself a slim shot at redemption.
What I do not pretend to know however, is what happens to a caddie's mind when these axes begin to swing their way, as fortunately (touch metal woods), I am yet to be confronted by them.  I count the clubs every morning, not once but thrice and after this I will count them five times.  I have caddied for countless golfers and seen what pressure can do to them and also seen countless caddies lose their minds when the heat comes on in tournament golf. If you think a caddie can't choke out there, then you don't know the game.
You cannot predict what you will do as a caddy under pressure and believe me, Vinson faced pretty much the most extreme pressure a caddy can face and his mind turned to porridge. This fact is evidenced by the manner in which he attempted to dispose of the 15th club, trotting off into the bushes from a waiting tee box with the bag on his shoulder. He may as well have skipped off into the woods with Angelina Jolie in a thong bikini. Vinson's chosen course of deceit was so blatant it's comical. Had he been thinking straight I am sure he could have disposed of that nasty 15th club in all manner of fashions that would have avoided detection.
Ask yourself how you would have done it? I assure you, every caddy out here has thought these questions through since this unlikely event. Would you have hung back once the group had teed off and then taken your dummy piss? Perhaps sat behind the group on the march and flicked the little bugger in the trees? Snapped the little sucker in half and stashed it in the bag? Left it there with the towel so tightly wrapped around it that nobody would ever notice it? Remember that this 15th club is going to cost you your life as you know it….and as you want it. The alternatives (and chance of success) for the non-detection of the dirty 15th club for a rationally thinking caddy are endless.
From the time of first penning this article, I have since learned that Vinson has been suspended from the tour for life. I find this decision by the European Tour insensitive and particularly harsh at best. A lifetime ban should be reserved for the far more sinister and calculated acts of cheating, like caddies dropping balls from their pockets when the five minute search for a lost ball is almost up or moving a ball from out of bounds back in to play. Surely there are far worse forms of blatant cheating that rank above Vinson's temporary loss of reason and his pathetic attempt to salvage his very own existence as a tour caddy? Otherwise, let's just bury them all in a bunker up to their necks and commence stoning them with the range balls. Either way, everyone deserves a second chance and all facts must be considered before you just end a caddie's very existence with the click of a mouse.
I conclude by declaring that Mathias Vinson is innocent of "cheating" on the grounds of temporary caddy insanity. He lost his mind, straight up. Yes, he deserves a penalty, but I urge the severity of this penalty to be thoroughly reconsidered. Some form of credit has to be given for his immediate honesty upon the raised suspicions and questioning of his playing group. The suspension given must bear in mind the fact that this man was facing the caddy abyss and that the vey laws of gravity and reason had been chaotically altered in Vinson's mind. At the very least the governing bodies should consider the fact that Vinson's new found infamy out here on tour will be penalty enough in itself. Unfortunately, you would have to doubt that any player would ever again take him on as their caddie and so willingly bring upon themselves such an unwanted sideshow.
As was so sweetly sung by Don Mclean, "I could have told you Vinson, this game was never meant for one as vulnerable as you"